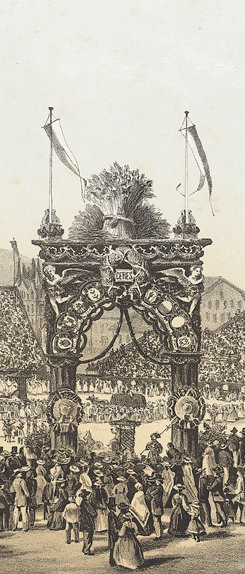 26-27 JULY 1865: INCREASING FINANCING DIFFICULTIES
"Vevey has 40,000 visitors those days, among them at least 20,000 of the feminine sex and consequently 20,000 crinolines, in other words 160,000 metal hoops, as each one has eight between the bottom and top of the cone. These eight hoops must weigh more or less two pounds, which would give a total of about 400 hundredweight of steel. Each crinoline has a circumference of approximately 12 feet at the bottom, so if we add up the circumferences, we would get a length of 240,000 feet, or 60,000 ells of material, enough to cover the road between Lausanne and Berne. … Say that in Vevey on 26 and 27th July, crushed by the crowds, they are reduced by a quarter, there would still be 5,000 seats taken up by a considerable superfluous width." Vernes-Prescott, L'Abbaye des Vignerons, son histoire et ses fêtes, jusqu'à et y compris la Fête de 1865.
The Winegrowers Festival had by then become an important event in Vevey. It attracted ever more spectators, especially given the new means of transport, such as trains and steamboats. Middle-class and affluent families moved around in large numbers, which disappointed certain people because the citizens of Vevey might not be able to attend.
Desperately looking for subscribers
The monies needed to organise the Winegrowers Festival grew to the point where Brotherhood funds alone were no longer sufficient. It therefore appealed to the public via a subscription campaign, but this was not as successful as they would have wanted. They had to make Vevey's citizens understand that if they did not subscribe, there would no longer be a Winegrowers Festival. In the end, the necessary capital was collected, although brave subscribers lost CHF6.50 per CHF 40 share they had bought.
PERFORMANCE
Abbot-President: Louis Bonjour
Dancing master: Benjamin Archinard
Music: François Grast: complete score, beginning of the creative phase, first marching band and choirs
Official poet: Jules Mülhauser – libretto still a collective work
Costumes: Pierre Lacaze
Décors : Ernest Burnat
Performance in front of the stands followed by the traditional parade through the town with dances performed at the "stations.
WINEGROWERS AND VINEYARD WORKERS CROWNED
Louis Peneyres
François Lécheyres (58 winegrowers also received distinctions and awards)
ARENAS AND STAGE SETTINGS
3 triumphal arches
10,500 seats
SPECIFIC AND NEW ASPECTS OF THE FESTIVAL
Organisation begun one year before
Central Commission (9 Councillors) and 7 sub-commissions: music, poetry and ballet, costumes and props, building and sets, finances, police, housing, food and beverages.
Historical costumes from Lake Geneva area, Grecian draperies, period costumes became real theatrical costumes
The crinolines that were so fashionable caused practical problems due to their weight and size.
Winter: the Wedding, comprised of 22 couples each representing a Swiss canton, brought the performance to a close.
THE FESTIVAL IN FIGURES
1,200 participants
3 performances
Prices of seats CHF 1.00 to 40.00.
Festival costs CHF 144,460
Deficit CHF 10,861 (1/3 covered by the Brotherhood, the rest by the shareholders)
Financing voluntary subscription – 1,000 shares issued at CHF 40 each.

The cumbersome crinolines caused a great to-do for the builders of the arenas of the Winegrowers Festival in 1865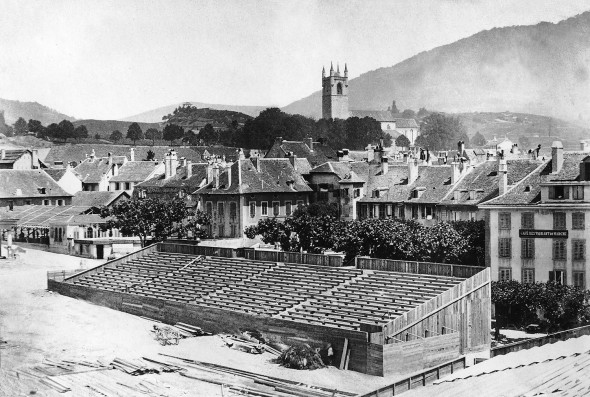 The stands on the Old Town side and the lake front. To avoid the hot sun and its reflection off the water, at Winegrowers Festivals during the 19th century performances were given with back to the lacke. Spectators could not enjoy the Alpine landscape.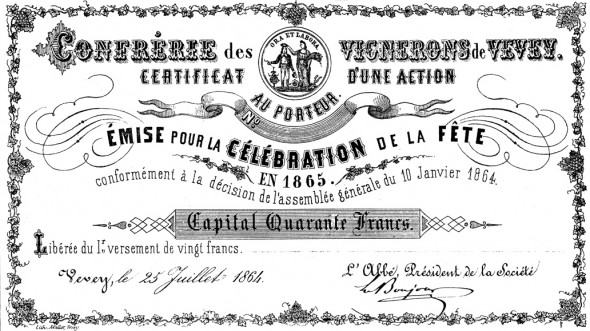 Public subscription slip
Silenus and his "Negroes", wearing dark tights as part of the costume
Celebrations in the town with the Wedding dance in the Rue du Lac. Winegrowers Festival 1865. Drawing by Godfrey Durand

Ticket to the Venetian Evening of 1865