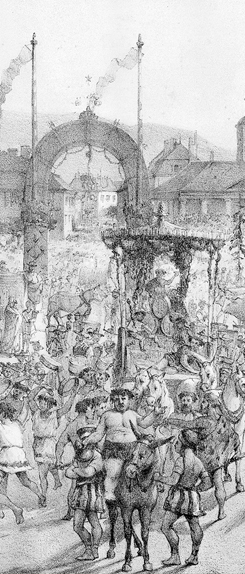 7 – 8 AUGUST 1851: ORIGINAL MUSIC SCORE FOR THE WINEGROWERS FESTIVAL
From 1851 on, the original artistic contributions of each Winegrowers Festival was one of the success factors of the event. At the 1851 Festival there was a musical work of a single style for the first time. The original composition written by François Grast and interpreted by 800 choir members brought the Winegrowers Festival very close to opera. However, the libretto was still a more or less cleverly arranged collection of poems by different authors and lacked unity. The gods were more discreet, leaving centre stage to the efforts of Man working the land.
PERFORMANCE
Abbot-President: François Dujoux
Dancing master: Benjamin Archinard
Music:  François Grast
Libretto: Jules Mülhauser – libretto still a collective work
Costumes and direction: Pierre Lacaze
Sets: Ernest Burnat
Performance in front of the stands followed by the traditional parade through the town with dances performed at the "stations".
WINEGROWERS AND VINEYARD WORKERS CROWNED
Louis Peneyres
François Lécheyres
58 winegrowers also received distinctions and awards
ARENAS AND STAGE SETTINGS
Large gates and 3 triumphal arches for the gods, described as an amphitheatre with the beginnings of a rear stage
3 massive, square constructions separate from each other, open to the north
8,000 seats
SPECIFIC AND NEW ASPECTS OF THE FESTIVAL
Six sub-divisions: 4 seasons, Troupe of Honour and Swiss Troupe
Troupe of Honour headed the pageant
Old Swiss Guard in military formation; until then they had only accompanied the pageant and kept order
Bacchus played by a young Englishman staying in Vevey
Cow-herders joined Spring troupe and more cows were added
Goddesses were placed on "ancient" floats pulled by oxen, not on palanquins
High Priests replaced Goddesses' priestesses and sang hymns to the Deities
"Indians" replaced "Negroes" leading Bacchus's horses
Winter no longer included Noah's Ark and the Baron, seen as too outdated for the new "Republican customs"
THE FESTIVAL IN FIGURES
900 participants
3 performances
Prices of seats CHF 1.00 to 5.00.
Festival costs CHF 64,850
Deficit CHF 20,367