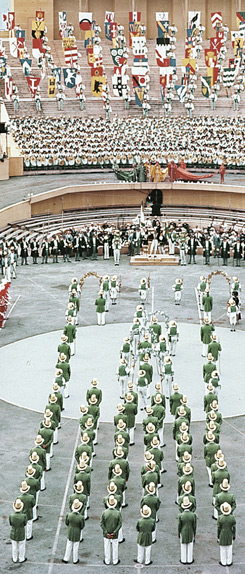 1 – 14 AUGUST 1955: THE LEGENDARY MESSENGER WON SWITZERLAND OVER
"The Winegrowers Festival must maintain its character as a workers festival and a high-quality artistic performance …, like its predecessors it must leave both spectators and participants with a memory of bright beauty and communion between all the people." Manual 9, 31.7.1955
The Festival that Abbot Gétaz had dreamed about since 1944 and saw as the very manifestation of traditional Vaudois art would end up being the most cosmopolitan Festival ever organised in Vevey.
WAS A WINEGROWERS FESTIVAL STILL JUSTIFIABLE?
Had the Second World War made the Swiss, and the citizens of Vevey in particular, forget what the Winegrowers Festival stood for? There was a real danger of that. After two decades of economic depression and of war, the world was much changed. In the mid-Fifties, people were accustomed to leisure activities and choosing between many different events. Radio, movies and even television had become part of everyday life. Within this new context, would the Winegrowers Festival find its place once more? The Councillors hesitated but tried to convince themselves the gigantic financial efforts needed to organise a new Festival would be worth it.
OPEN TO THE WORLD
However, it was impossible to think only of French-speaking Switzerland, they would have to attract the German-speakers and also the foreigners in Vevey. A dual publicity strategy was put in place, with considerable external advertising on the one hand, and on the other, a selection of international artists. The two Vaudois Carlo Hemmerling and Géo-H. Blanc, who would assure the regional authenticity of the event, were joined by the administrator of the Reunion of Lyric National Theatres of Paris for the artistic direction and Oscar Eberlé from Zurich as director. The Republican Guard from Paris, three Opera de Paris star dancers, and professional singers were also invited. Never had the Winegrowers Festival opened its arms so wide. They attempted to "make the Vaudois festival a performance of international proportions" (Oscar Eberlé). It was breath-taking, dazzling, professional, and of high artistic calibre, yet many did regret the loss of authentic Vaudois spirit in the face of such a massive presence of foreign assistance.
THE LAME MESSENGER
Given the context, therefore, the part played by the Lame Messenger was extremely meaningful. In a world where traditional values were being turned upside down, all on his own Samuel Burnand, who brought the legendary messenger to life switching his prosthesis for a wooden leg, was the symbol of the town's attachment to its festive tradition. As herald of the Festival, he carried the proclamation all the way to Bern, where he had been sent to invite the Federal authorities. He returned in triumph to Vevey from Bern on foot.
THE WINEGROWERS FESTIVAL – A SUCCESS
After a somewhat shaky beginning of arenas not filled, the 1955 Winegrowers Festival was a spectacular success. People rushed to Vevey from all over Switzerland… and the world. Extra performances had to be scheduled to respond to enthusiastic spectator demand. In 1955, new lighting technology made evening performances possible for the first time.
PERFORMANCE
Abbot-President: David Dénéréaz
Direction: Oscar Eberlé
Music: Carlo Hemmerling
Libretto: Géo H. Blanc
Costumes: Henri-Raymond Fost
Choreography: Nicolas Zwereff
Artistic Direction: Maurice Lehmann, Administrator of the Reunion of National Lyric Theatres, Paris
WINEGROWERS AND VINEYARD-WORKERS CROWNED
Alfred Isoz
Louis Chassot
Charles Perrottet and son
Adrien Genet-Porchet (deceased, his widow was crowned in his honour), 44 winegrowers also received distinctions and awards
ARENAS AND STAGE SETTINGS
Oval amphitheatre (closed cycle of four seasons constantly beginning over), scenic steps on the lake side leading to a portico with three spaces reserved for the gods (Olympus), above which shone the emblems of the gods.
Arenas: area for the action of Man on Earth, so there were two separate areas – celestial and terrestrial.
16 000 seats
Costumes inspired by 1833 Festival, Romantic style
SPECIFIC AND NEW ASPECTS OF THE FESTIVAL
Living vineyard in the arena: children carrying vines Frost tableau: vine-workers fighting frost (Spring)
Diseases tableau: fighting parasites (Summer), executed by 3 professional ballet dancers
The fields come alive: 150 children-furrows
Dionysus of Winter
Ceres with Phoebus and his rays, "archers of the sun"
3 Paris Opera star dancers: Michel Renault, Nina Wyroubova, Max Bozzoni and a professional Swiss ballet troupe
Professional singers (head priests, head priestess, sower)
Marching band of the Republican Guard, Paris
Evening performances with projectors
Participants no longer flow into the arena from the beginning as in 1797 and 1927
THE FESTIVAL IN FIGURES
3857 participants
11 performances
2 pageants – 5.2 kilometres long, 1 pageant – 3.2 km
Prices of seats CHF 10.00 to 70.00.
Festival costs CHF 4,695,229
Profits CHF 1,204,927
Warranty capital CHF 1,271,500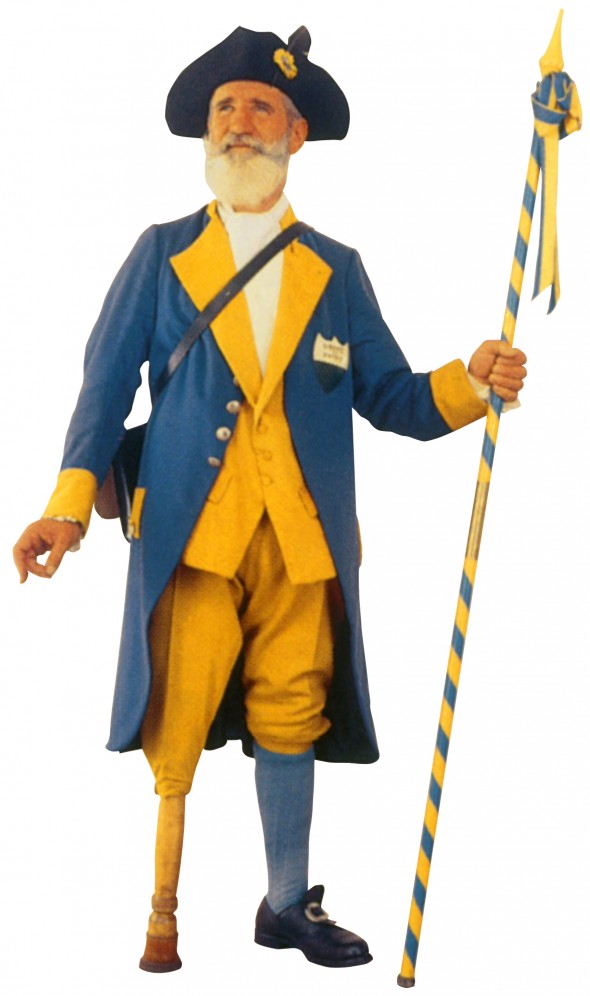 Samuel Burnand played the role of the Lame Messenger during the 1955 Winegrowers Festival

The arena of the 1955 Winegrowers Festival looks like a flying saucer that landed on Vevey's Market Square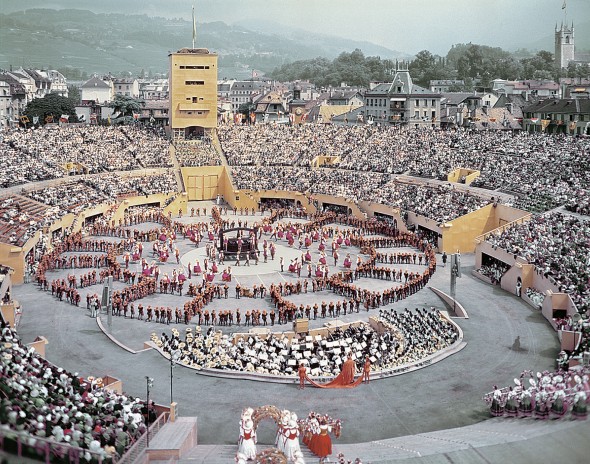 Autumn scene: winepress wheel, Winegrowers Festival 1955

Ceres on her float pulled by the legendary oxen especially bred for the Festival, during the parade at the Winegrowers Festival 1955

In 1955, technological advances make evening performances possible for the very first time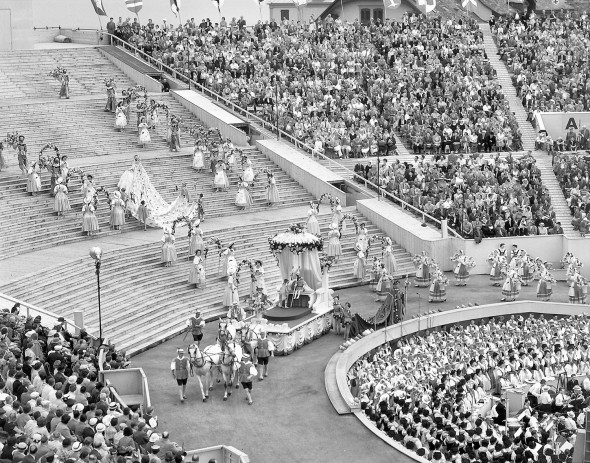 Spring scene: Pales walking up the scenic steps, Winegrowers Festival 1955