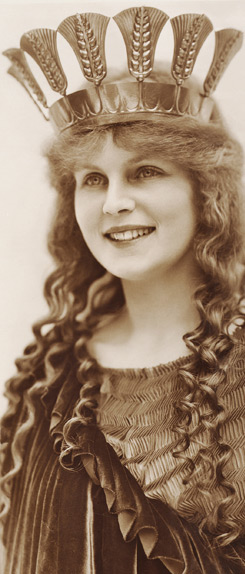 1st – 9th AUGUST 1927: AESTHETIC FALLBACK SOLUTION
The shining memory the 1905 Winegrowers Festival imprinted on the public's heart increased expectations for 1927 tenfold.
The Brotherhood of Winegrowers did not dare take major artistic risks and tried to reconstitute the 1905 team, especially Gustave Doret for the music and René Morax for the libretto. The latter declined, however Doret was won over by the new challenge, as was Ernest Biéler, who had worked with Jean Morax on the costumes and stage settings in 1905.
A Winegrowers Festival despite a declining wine-producing sector
The world of winemaking had changed since the two preceding Festivals: many winegrowers had abandoned their vineyards to make a more regular living in the newly-built factories in Vevey. Many plots which had formerly been used to grow vines were turned over to urban development. Artistic choices for this Festival were very traditional, as the feeling was for a need to hold on to tried and true values. They glorified the land, the homeland, the traditional tasks of farmers and winegrowers, and also mixed clothing styles that had already proved effective in earlier Festivals. The stage settings no longer harked back to Ancient Greece or Rome, but concentrated on our own history. The medieval wall with its battlements inspired by the towers and castle walls of Romont, Lucens, Estavayer and Gruyère served as the backdrop and entrances for the divinities and the participants. In a difficult economic context with traditional values slowly disappearing or having to adapt to new conditions, the Winegrowers Festival was a receptacle for memory and identity, where by delving into the depths of a common past, each individual strove to find hope and belief in better times to come.
The little goat-herd's song
"I sing and my heart often pains me. I'll be fifteen next autumn. I sing all alone on the slopes of scree all afternoon, for no reason and for nobody. Hodiriadou.
I approach the foot of the tower just after dawn, my nanny goat is so clever. All around the mountain you can hear the bells of my little herd, while my dog goes with me. Hodiriadou.
The rhododendron and beautiful gentian flowers will be for Jeanne when we return! I think about her in the calm of the noontide hour, I worry for she is down in the town. Hodiriadou". Official libretto, Winegrowers Festival 1927, Vevey, 1927
PERFORMANCE
Abbot-President: Emile Gaudard
MiseDirection: Edouard Vierne replaced by A. Durec from Paris, who saved the show's direction a few weeks before the Festival
Music: Gustave Doret
Libretto: Pierre Girard
Costumes: Ernest Biéler
WINEGROWERS AND VINEYARD WORKERS CROWNED
Jean Borlat
Jean Herzog
Henri Roux
Félix Dubuis (60 winegrowers also received distinctions and awards)
ARENAS AND STAGE SETTINGS
Horseshoe shape: Biéler designed a medieval village wall as the backdrop (inspired by Estavayer, Lucens, Gruyère and Romont) with three gates, towers and battlements 16,000 seats
Costumes 18th century style
SPECIFIC AND NEW ASPECTS OF THE FESTIVAL
Farmers and peasants, basket weavers, goat-herds
The Lame Messenger
Return of Noah
THE FESTIVAL IN FIGURES
2,000 participants, 5 bands, 1 orchestra with 150 musicians
6 performances
Prices of seats CHF 5.50 to 82.50.
Festival costs CHF 1,202,497
Profits CHF 216,215
Warranty capital CHF 388,500 provided by 725 subscribers and CHF 75,000 by the Brotherhood of Winegrowers

The Choir directed by Gustave Doret, Winegrowers Festival 1927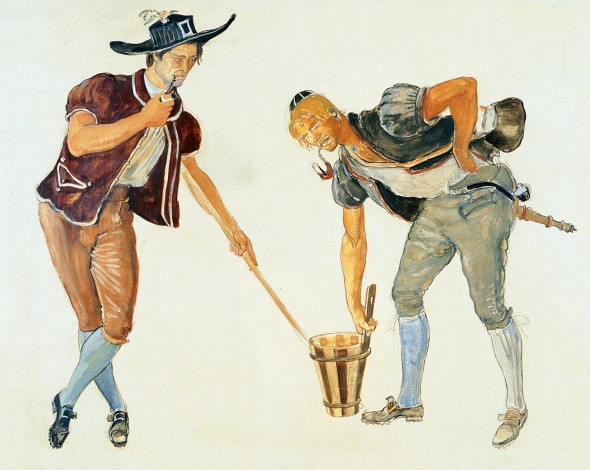 "Armaillis" (mountain cow-herders) of 1927 Winegrowers Festival, drawing by Ernest Biéler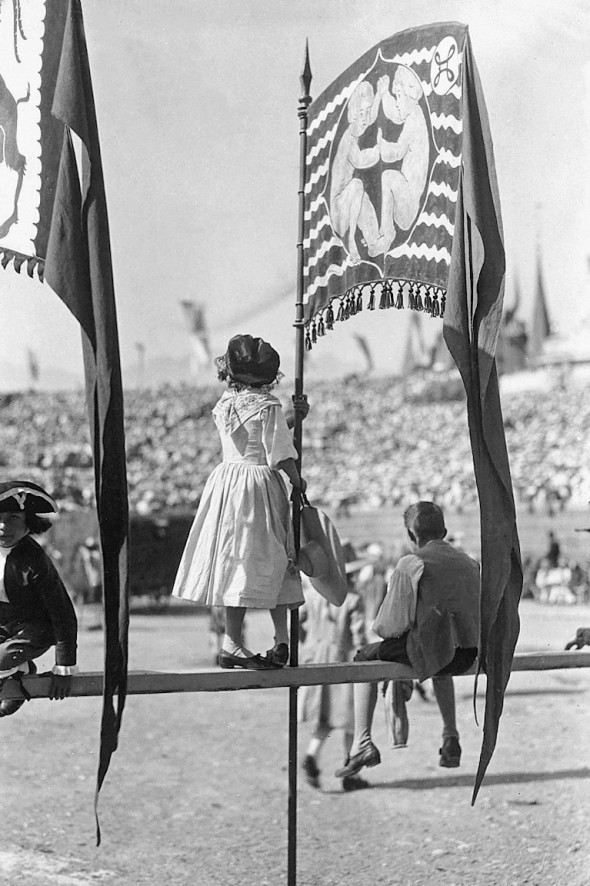 A young spectator with the banner of the 1927 Winegrowers festival
Cow-herders of the 1927 Winegrowers Festival, drawing by Ernest Biéler

Modernity and tradition side by side during the 1927 Winegrowers Festival: chalet girl with a camera and a wrist-watch